Voice and Tone
If your message is what you say, your voice is how you say it. Just like you adapt your message to your audience, your voice and tone should reflect an understanding of who you're communicating it to, and must also align with UC Davis' brand personality. 
So, what is UC Davis' voice?
It's your voice + our brand. It is not something you have to try to mimic. Don't try too hard to sound like someone else; just keep the university's brand front of mind when you're creating content, like you would a trusted colleague's input. 
You are required to stick to campus style guidelines around capitalization, punctuation, acronyms and titles; this helps to maintain a consistent voice across campus communications and strengthens the sense of a coherent UC Davis brand personality. 
Look for inspiration in our creative manifesto, The Student Affairs Difference.
Strategic Communications' voice and tone guide includes an adjectives bank framing how we should sound when we talk about ourselves and what we do as a university and community. It's a useful jumping-off point for bringing UC Davis'—and your department's—unique personality to your messaging.
---
UC Davis Editorial Style
Campus style covers rules around capitalization, punctuation, acronyms, titles and the like. Far from being trivial, a lack of stylistic consistency can impact institutional credibility. A consistent style across all campus communications strengthens the university brand and provides your reader with a more enjoyable experience.
UC Davis campus style is based on the Associated Press Stylebook ("AP Style") but includes some exceptions.
For Student Affairs units, the order in which style and usage rules apply is:
Bookmark these; also, consider ordering at least one physical copy of the most up-to-date Associated Press Stylebook for your department.
If you have a question about campus style or would like to propose an update or addition, please contact samc@ucdavis.edu.
---
Telling Our Stories — Some Best Practices
A brand is whatever comes into a person's mind—ideas, images … a gut feeling—when they think about a product, or a service, or company or institution. Our brand means the total experience that UC Davis creates, and what people feel when they think of it.
This total experience is made up of individual stories—student stories, staff stories, the stories of departments and divisions and campus traditions—and each of these stories has something to say about what it means to be here and be a part of UC Davis.
Because of how we serve and work with students, Student Affairs is rich in inspiring stories. By sharing some of these stories, we can strengthen the UC Davis brand, raise awareness about what we do on campus and beyond and provide inspiration and valuable information to our students.
Here are some ways you can use storytelling to help achieve your department's goals.
Start With Your Website
"About Us" section: Your chance to tell your department's story. Steer clear of jargon-heavy mission statements and try to provide an authentic sense of your department's personality. Remember, your primary audience is probably Gen Z, and you have eight seconds to engage their interest.
"Our Staff" page: Anything from a brief professional bio to a fun, interview-style profile can humanize professional staff and make your department and staff feel more approachable. Here's an example from SAMC of the latter type. Student employee profiles are a great idea too.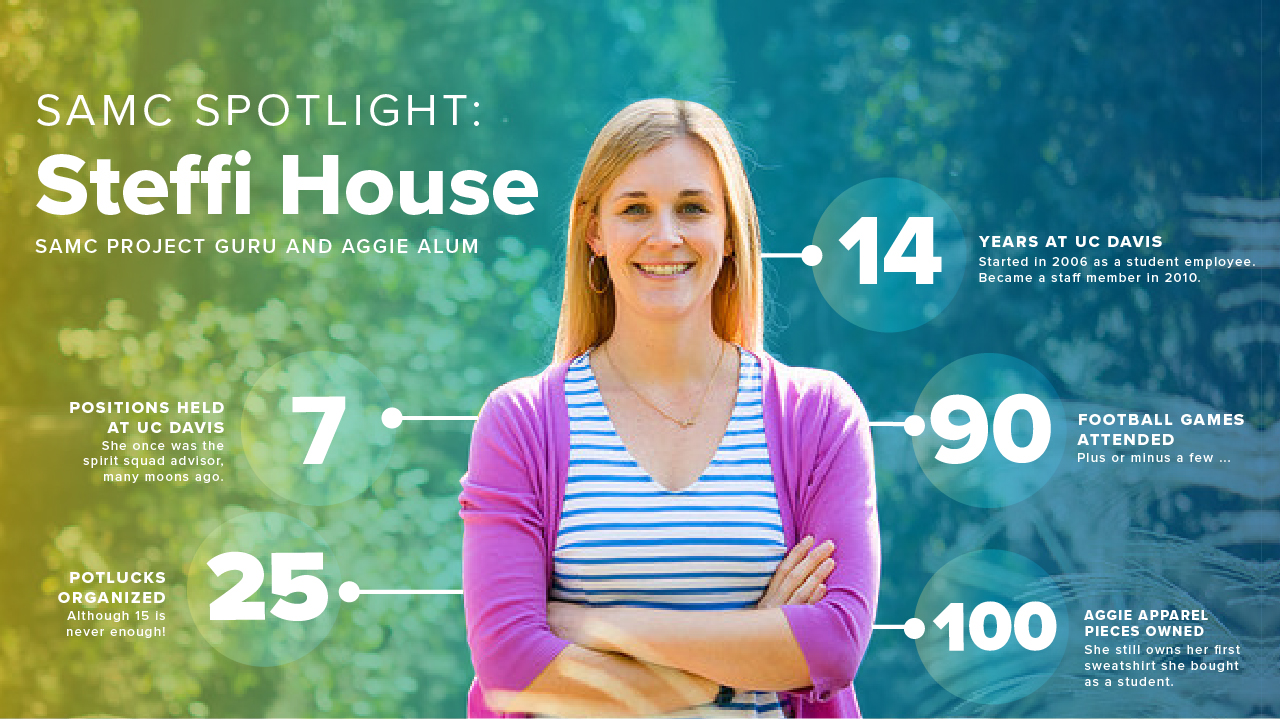 Student Features
Every student has a story to tell about how they got here and what they've done with their time. Identify inspiring students you know or put out a call. There are multiple formats to choose from, including interview-style, first-person or a third-person narrative. Student stories are inspiring, can highlight resources and opportunities not everyone knows about, and are a highly reusable content type. A story can be a long-form article like Aggie Voices and Aggie Heroes down to a quick question-and-answer in a social media post or slice-of-life Instagram story. Make sure you have the student's permission, quality photography and clear goals before you get started.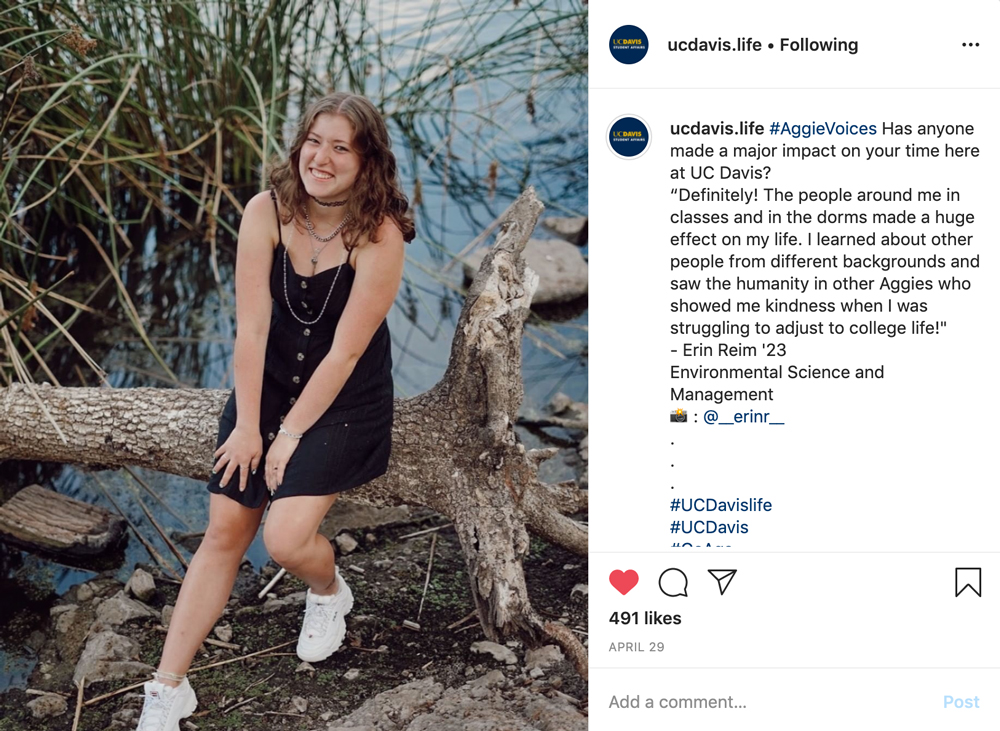 Video
As a medium, video is a powerful tool for reaching large audiences and eliciting an emotional reaction to your subject. Video is Gen Z's "language of choice," meaning it has never been more important to find ways of bringing your stories to this medium. Cell phone video may be appropriate for use on social media, but your video is only as good as your production value. Visit UC Davis' brand guide on video and consult with SAMC for assistance with higher level video projects. Examples of video storytelling:
Choose the Right Channel
Story is broader than a traditional feature or profile. Awards, accomplishments and new initiatives all go toward forming the larger story—your department's and the university's. Share this information in an engaging narrative format with the appropriate audience via your website, social media, newsletter or even magazine. If your department doesn't have a newsletter or social media channels, you can reach out to Strategic Communications and SAMC for help finding the appropriate channel to share your story.