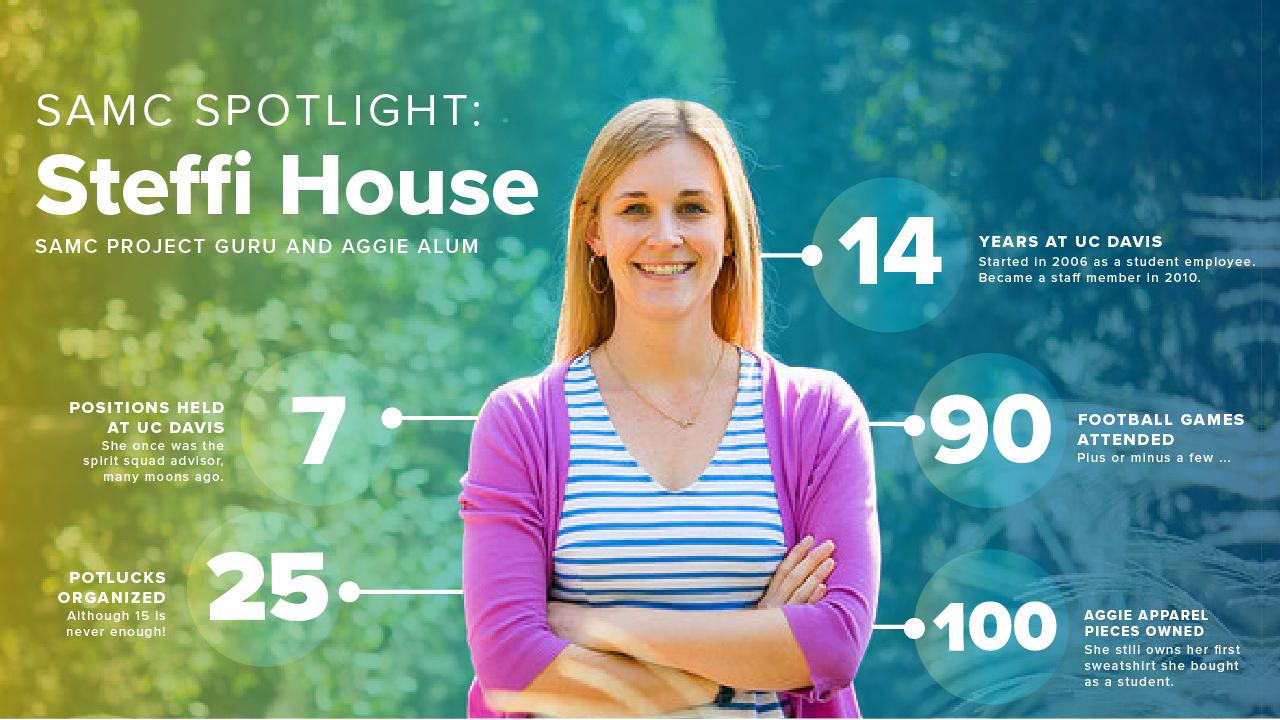 SAMC project guru and Aggie alum Steffi Brikovich '09 graduated from UC Davis with degrees in communication and economics and a minor in education.
---
Describe your career path and what led you to SAMC?
Generally, I feel pretty lucky when it comes to my career path. As an undergraduate, I started as a promotions intern in Athletics, helping run game-day events and a variety of other things. 
After graduation, a part-time special projects position opened in Athletics, and my former supervisor thought I would be a great fit. I took the job and was promoted from that position to help run game-day promotions, supervise the Spirit Squad and Aggie Pack as well as support social media. After a few years of working in Athletics, I saw on Facebook that Student Housing—now Student Housing and Dining Services—was recruiting for a social media coordinator. I applied, was offered the job and spent a couple of years developing their social channels. A campus reorganization moved me over to SAMC, and I continued with social media, but I also dabbled in client relations, which is where I am now! I really enjoy the project management aspects of my job.
What did you learn from your position in Athletics? 
I learned how to be extremely organized. I always had a lot going on with Athletics, and I had to stay on top of my game (pun intended) to make sure things ran smoothly. I also learned that if people realize you've made a mistake, it's not necessarily a bad thing: it means they actually read your marketing email, poster, etc. I also learned to value work-life balance!
What is your favorite non-UC Davis marketing campaign? What are your thoughts on current trends in higher education marketing? 
I love the Geico ad campaigns. I think they are clever, and they make me laugh. I have to admit the commercials have not persuaded me to change insurance companies, but they crack me up, even if I've seen the ad before.
Regarding marketing trends in higher education, we've been focusing on millennials, and we need to start shifting our focus to Generation Z. Gen Z is pretty different from the millennial cohort, and we need to make sure our outreach marketing is effective.
If you were going to be a brand ambassador, which company would you choose? 
Disney! I love Disney, specifically Disneyland. I really do think it's the happiest place on Earth! If it wasn't Disney, I would definitely be a brand ambassador for something to do with food.
What have you done that's adventurous for you? 
I am pretty risk averse because I like knowing what I am getting into. That said, I'm pretty adventurous when it comes to eating and enjoy trying new restaurants.