A brand isn't something you have. It's something you are. Something you live. It's more than just the visuals. It's about tone and voice.
Our brand means the total experience that UC Davis creates, and how people think of that experience. It's one of our most valuable assets.
This guide will help you get to know each facet of the UC Davis brand. It provides practical guidance on how to make decisions, both large and small, in support of telling a compelling and consistent story about the university.
Why a Student Affairs Brand Guide?
Our division is large and diverse, and our impact on each student's UC Davis story is comprehensive and direct.
While the UC Davis brand encompasses the entire campus, Student Affairs' mission, scope and organizational structure give rise to a handful of division-specific brand considerations.
Brand Guide Overview
In addition to the online Brand Guide, we have developed the Student Affairs Brand Overview that you can download and print.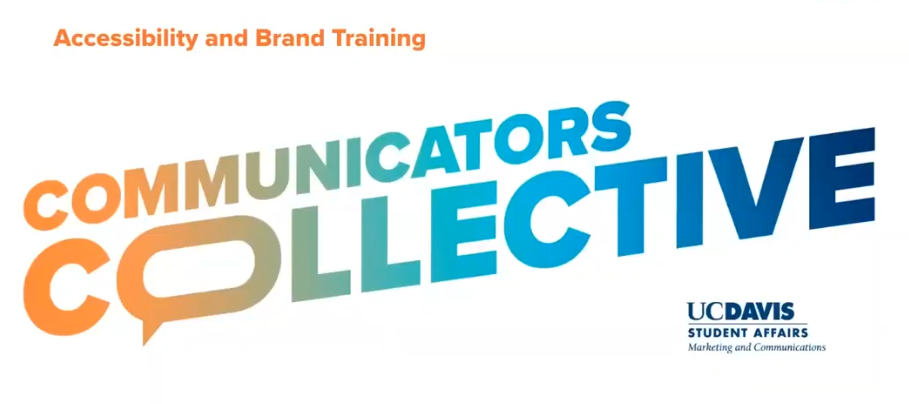 Brand Training Video
Watch a recording of a Student Affairs brand training hosted by Student Affairs Marketing and Communications (SAMC).
The Student Affairs Difference
Student Affairs is here to help students outgrow expectations. Their own—and society's. To thrive outside the classroom so they can succeed in it. To design a life and identity. Be empowered to realize values and dreams in the wider world. Be fed and housed, regardless of circumstance. Respected and lifted up.
From our beginnings as an agricultural school, we know that it takes more than "let there be light." Roots need the right conditions to grow deeper, and branches need the space to spread out and up. We offer not just services, but space for coming together as a community—and as communities.
This is Student Affairs. This is UC Davis. This is what we do.
And we do it because Aggies who understand who they are, where they want to go, and that we're in it together—who outgrow the expected, who push past limitations and outpace uncertainties—will be the ones to build us a better California, country and world.