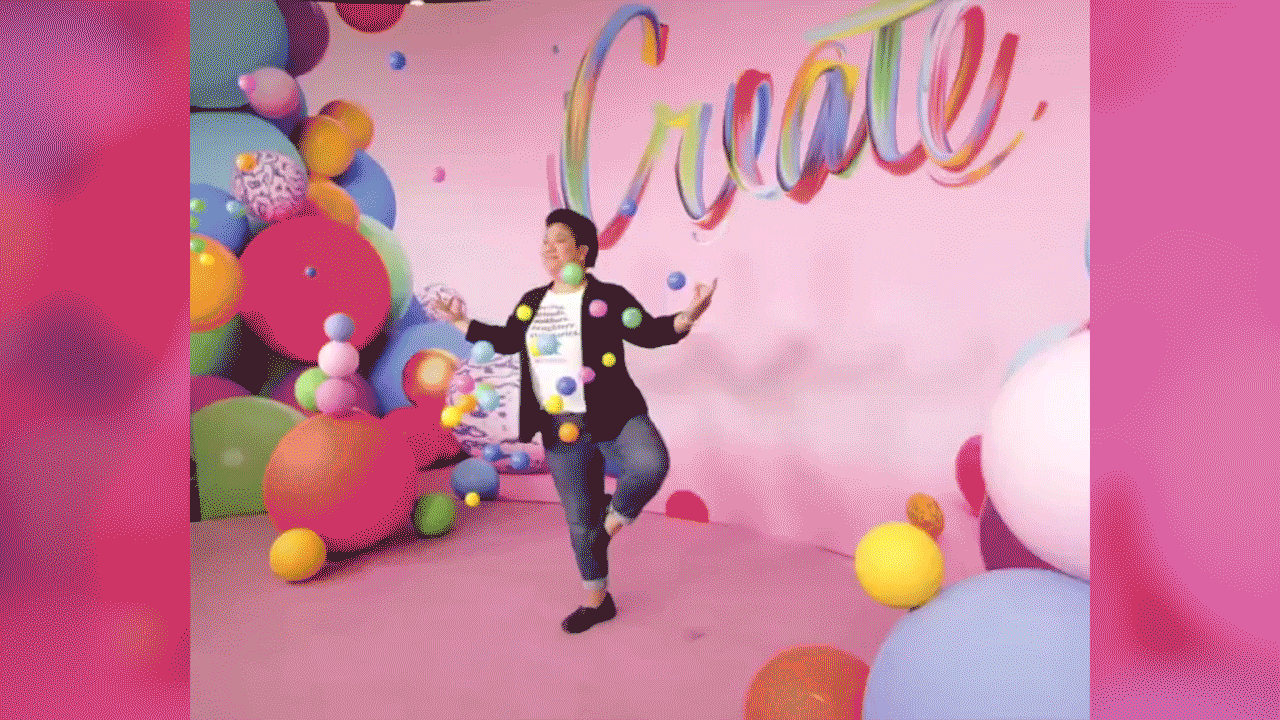 She's the design dynamo behind SAMC's award-winning work, with hundreds of logos to her name—here we talk to senior designer Jenn Vaughn about leading student designers, what people get wrong about marketing and how she comes up with all of her design ideas.
---
Describe your career path and what led you to SAMC?
Prior to coming to UC Davis in 2015, I worked for small boutique design agencies in Washington DC and Walnut Creek. I started as a print designer, working on branding and marketing campaigns for large non-profits like The Smithsonian and The National Education Association, corporate and retail clients and commercial real estate firms. I designed the logo, identity system and branding standards for Howard University and Washington and Lee University. I led the rebranding efforts for the Cathedral College at the Washington National Cathedral and had the opportunity to meet Archbishop Desmond Tutu. If I had to guess, I've probably designed over 100 logos for clients during my career!
When I moved back to California, I transitioned to more website and app design for startup, tech and corporate clients like Genentech, Western Digital and Signature Homes. The work was exciting because it was fast-paced and very collaborative. At the same agency, I was also doing work for small businesses and universities like UC Berkeley and Stanford. As a first-generation college graduate, that work was more fulfilling to me and in all of my years as a designer, my favorite clients were always colleges and universities. I came to Student Affairs at UC Davis so I could focus my work solely on branding and marketing for higher education.
How do you approach the design process? Where do your ideas come from?
I like to think I come at a design problem both critically and empathetically. First and foremost, I think about my client's goals and the outcomes we are trying to achieve. I put myself in the shoes of the client, members of their different audiences and other important stakeholders. I really enjoy the brainstorming process where my team and I document any and all ideas—silly ones, impractical ones, obvious ones—all of it. You never know where one idea will take you! I like to think about things one way, then try to flip it on its head and think of it from the complete opposite perspective, then challenge myself to think about it in a totally different way, then flip it on it's head again … and again … and again until I feel like I've covered all of my bases. I look for inspiration everywhere: How does the competition do it? What phenomena or systems in nature apply? Are there answers in traditional, ancient or cultural storytelling? I read up on anything related to the problem and I talk to as many people as I can to get first-hand accounts. If possible, I visit a client's space and explore the problem as a user myself. Being a designer is so great because you learn so much about so many different things!
The initial phase where anything is possible is the most fun! From there, I note patterns, links and themes and try to make sense out of them. I start with hand-drawn sketches, wireframes or word maps. Being loose in the beginning to let your mind work out the big picture first then filling in the smaller details later. A lot of design is editing—choosing which ideas and concepts are the best and refining it into its best and most simple form. Every design decision should be deliberate and calculated and serve the intended goals.
What is your favorite part of your job?
By far, the best part of my job is working with my student designers. They have such ambition, passion and excitement for design. I love how my students are driven to make the world a better place through excellent and thoughtful design. It's impossible to be cynical and negative when you're surrounded by young and hopeful energy.
As a graphic designer, whose work do you admire? Who are your design heroes?
I saw Tina Roth Eisenberg speak at a design conference a few years ago and instantly became a huge fan. If you want to see the talk that made me fall in love with her, you can check it out here.
What do you think people misunderstand about marketing?
I think a lot of people equate their logo with their brand, when a brand is so much more than that. Your brand is your reputation and your personality. It's the customer's experience of your organization and how you make them feel. It's the combination of visual, verbal and emotional attributes that define your organization and distinguish it from the competition. And it should be consistent everywhere. Definitely in your marketing, but also in the design and feeling of your physical spaces, in how you answer the phones and how you treat your employees. Your brand permeates everything you do, everywhere.
A memorable, well-designed logo certainly lays the foundation of a brand visually, but your audience shapes it. Marketing seeks to understand how your audience perceives your brand and calculates the best tactics, strategies and messaging to further your organization's goals.