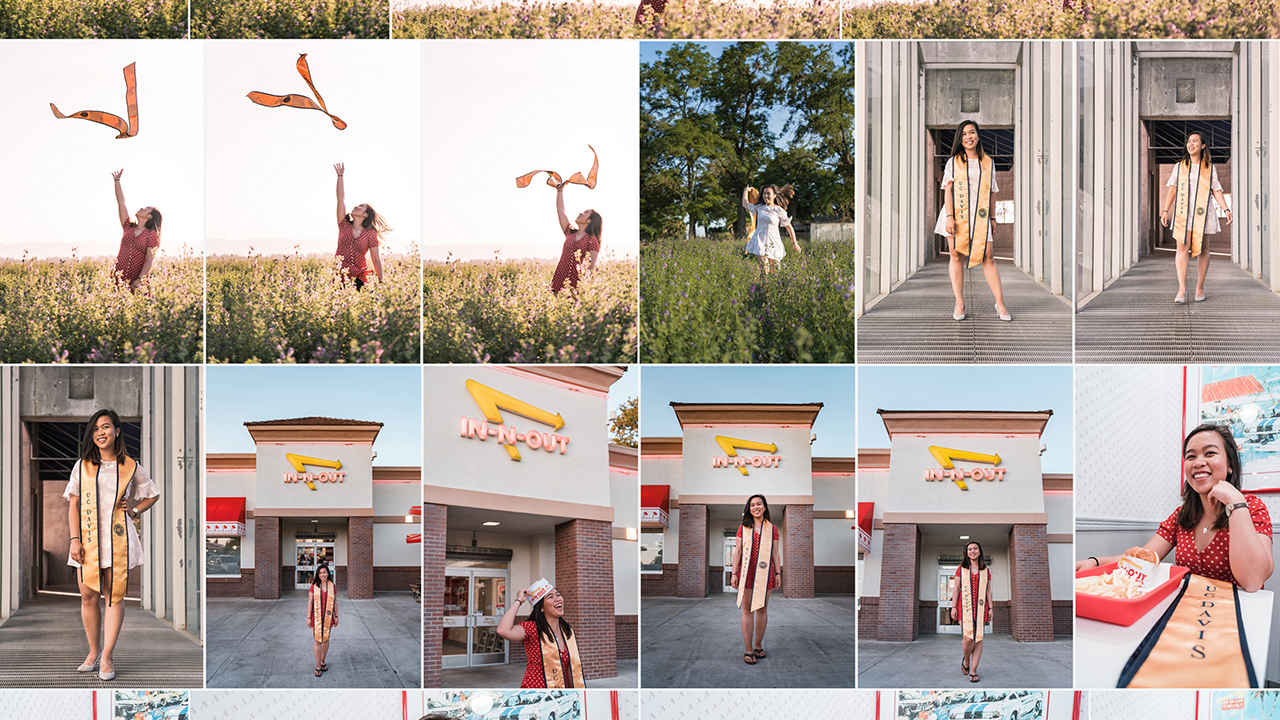 Where are you from originally? What was it that drew you to UC Davis?
I am from a very small town in Idaho called Priest River. By small, I mean our town had a population of about 3,000 and my graduating class was 93, the biggest it has ever been. I knew from the start that I wanted to be pre-med, from childhood my dream of saving people, and attend an out-of-state university, but I had no idea exactly where. I didn't even know UC Davis existed until I looked for a school that thrived in research and medicine. When I visited the campus, I basically fell in love with the thought of biking around the town and never having to worry about the snow. I also met really friendly people during my tour and as we were walking around, it all just felt right.
Why did you want to intern at SAMC?
I was interested in science, but I was passionate about fashion. Although I was creative, design wasn't a strength, and so I figured I could be a merchandiser instead. With a more marketing focus, I knew I would need the experience to be prepared for it post undergrad. I wanted to intern at SAMC because they were hiring for the summer, and I was going to be in Davis anyway. I also figured that it would be a great place for me to get creative with marketing using my past experiences on campus.
Was there anything about interning at SAMC that surprised you?
I was surprised by the amount of creative freedom I was given. I originally thought that I would just be supporting campaigns already created by SAMC, and if I did have ideas, it would have to be approved first. However, that wasn't the case; I was encouraged to browse for inspiration and create my own campaigns.
What has been your favorite project to work on, and why?
The #ThrowBackThursday was my favorite because it was so much fun to compile and make. I was able to go beyond writing captions because I had to meet with Library Special Collections, print and take the photos, and polish them on Photoshop. It was nice to see the end result of an idea.
When your friends or family ask you about what SAMC is/does, what do you tell them?
It's a marketing department that focuses on student affairs, from students' lives on campus to their careers after Davis. Its main focus is the student, and SAMC caters to that audience through engaging graphics and an active social media platform.
What do you wish people knew about SAMC?
Mainly that it exists and that it's actually a huge part of campus.
How did working "behind the scenes" to support Student Affairs initiatives change the way you looked at the division's role on campus?
I realized how much content SAMC creates to support the different initiatives. Specifically, within Student Life, I realized how much influence our social media really has on students. I've seen how students engage with their peers and how they are driven to get more involved because of a social square or a repost from an event.
How did you find your new job at Student Housing and Dining Services and what are you most looking forward to about it?
I knew that Student Housing and Dining Services were looking to have their own social media coordinator from our social media meetings. However, I didn't even think I was qualified for it nor did I know where to apply until Matt (my supervisor) forwarded the application over to me. I'm looking forward to helping them create a structure and to share the stories of the people involved because there is so much potential in the department.
How has interning at SAMC prepared you for your new job?
I was able to build a portfolio in SAMC and create a reputation based on my work. SAMC was the place where I learned the most, from metrics to software to shaping the campaigns in the best way possible based on numbers.
What do you have planned for the summer?
I will be going home to spend some time with family after graduation. Then I will be coming back to Davis to continue my work with Student Housing and Dining Services.